Lesley Butterworth, former NSEAD General Secretary and creative practitioner, reviews 'Intelligent Hands' written by Charlotte Abrahams and Katy Bevan. Read on to learn more about this new book that explores the value of craft education and why making is a vital skill for life.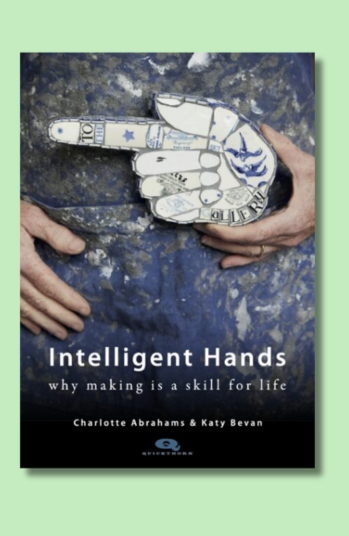 Intelligent Hands: why making is a skill for life is co-authored by Charlotte Abrahams, a writer and curator specialising in design and the applied arts and Katy Bevan, a writer and educator specialising in craft and a former member of NSEAD's Professional Development Board. The book includes an introduction by Jay Blades MBE, co-chair of Heritage Crafts and presenter of the television programme The Repair Shop.
This beautifully illustrated and thoughtfully researched book will be of interest and help not only to NSEAD members employed in formal education, but to people working in museums, galleries, and the healthcare sector.
To be clear, Intelligent Hands is not a book that offers practical ideas to teach various craft forms. More importantly, this book clearly explains why these skills are important to many people at different stages of their lives. To be clearer still, this is one of the best texts advocating for the value of craft and making skills that I have read.
Intelligent Hands is concise, readable, and divided into three sections:

- Mind and Body
- Education and Learning
- Wellbeing and Activism
Stitched into each section are the voices of participants, teachers, agencies, and activists — all showcasing different success stories. Shorter sub sections include thoughts on spatial awareness and difference, risk, the influence of Sloyd (a 3D-modeling tool), sensory stimulation and dementia, the world of AI and the introduction of T levels.
Authors Charlotte Abrahams and Katy Bevan swiftly set out their stall, citing the lack of value given to crafts and making skills. Key to the authority of this book is the carefully researched evidence brought to witness to advocate for the benefits of those intelligent skills.
'Mind and Body' introduces us to the neuroscience that connects brain to hand, what the hand is doing, and the order and sequencing that gives feedback to the brain. The concepts of haptics, tacit learning, and knowledge are covered, to include the work of Professor Bill Lucas from the University of Winchester and Camilla Groth from the University of South-Eastern Norway. Lucas sees creative learning as developing capabilities useful in later life, such as self-perception and resilience. Groth's research into the theory of embodied cognition reiterates that the body is a crucial contributor to knowledge and that physical experiences of the material world are an essential part of the design process.
'Education and Learning' takes us into more familiar ground for teachers of art, craft and design and serves as an excellent reminder of the work of many educationalists, including John Dewey, Jean Piaget and Friedrich Frobel.
The work of Ella Ritchie MBE, co-founder of Intoart, is explored as an alternative art school for people with learning difficulties. Intoart presents a programme to 'shift the perceptions...made by people with learning disabilities from solely "therapeutic activity" towards investing in meaningful useful production.'
The book also discusses apprenticeships. Dr Daniel Carpenter, Executive Director of Heritage Crafts is cited, 'Person-to-person teaching is vital to saving the endangered crafts because there are so many skills that simply can't be articulated through language or recording. And the best form of person-to-person teaching is the apprenticeship model, one master craft person with one trainee, hands on in the workplace.'
Elsewhere in this section we can read of the value of intelligent making skills outside of a specific career in craft. this includes surgeon Roger Kneebone who notes the lack of basic haptic skills in medical students; and engineer Professor Dame Julia King who explains how the construction techniques she learnt from her seamstress mother, helped her in later life understand composite structures in wind turbines.
'Wellbeing and Activism' concludes the book. It considers the role of craft and making as therapy; therapy that is active, attentive, and driving hand and eye to work together, not just passive hours filled with repetition. We are also introduced to the work of Cathy Treadaway, Professor of Creative Practice at Cardiff Metropolitan University and the Principal Instigator of LAUGH (Ludic Artefacts Using Gesture and Haptics) and to their project involving the design of playful objects to support people living with dementia.
I heartily recommend Intelligent Hands to members of NSEAD and art educators everywhere. This book is not a long haul read but a concise and careful signpost – perfect for teachers pressed for time. Readers will come away feeling informed and empowered to celebrate and justify the crafts in their practices and understand why intelligent making is a vital life skill for you and your students.

Buy Your Copy
Intelligent Hands: why making is a skill for life is published by Quickthorn and is out now. Find out more and purchase your copy.
About the Reviewer:
Lesley Butterworth is currently a creative practitioner, having spent her career in visual arts education. Lesley has worked at the Design Museum, the National Gallery, Reading Museum Service and for the Arts Council making the case for support for craft in education. Lesley was General Secretary of NSEAD and has been chair of Engage and Making Space, and a trustee of Viables Craft Centre.
About the Authors:
Charlotte Abrahams is a writer and curator specialising in design and the applied arts. She trained at Central St Martin's and since then has written regularly for the national and international press, including Guardian Weekend and the Financial Times. She is the author of several books about pattern and wallpaper and one on the Danish concept of Hygge. She is less good at making than the people she writes about, but she is teaching herself to darn.
Katy Bevan is a writer and educator specialising in craft and mother of a disabled child. She is the editor of many books on craft and writes for textile and craft magazines such as Selvedge and a trustee of Heritage Crafts. Previously at the Crafts Council she founded the publishing company Quickthorn Ltd in 2022. She blogs at 'The Crafter,' runs workshops in darning, crochet and knitting, and is mostly to be found making something.