Berkshire Printmakers was founded by artist educator and NSEAD member Sarah Martinez, along with her husband artist Cipriano Martinez. Kirstie Millar, NSEAD's Communications Officer, spoke with Sarah about her journey into printmaking, how screen printing inspires learners, and the value of being part of a community of fellow art educators.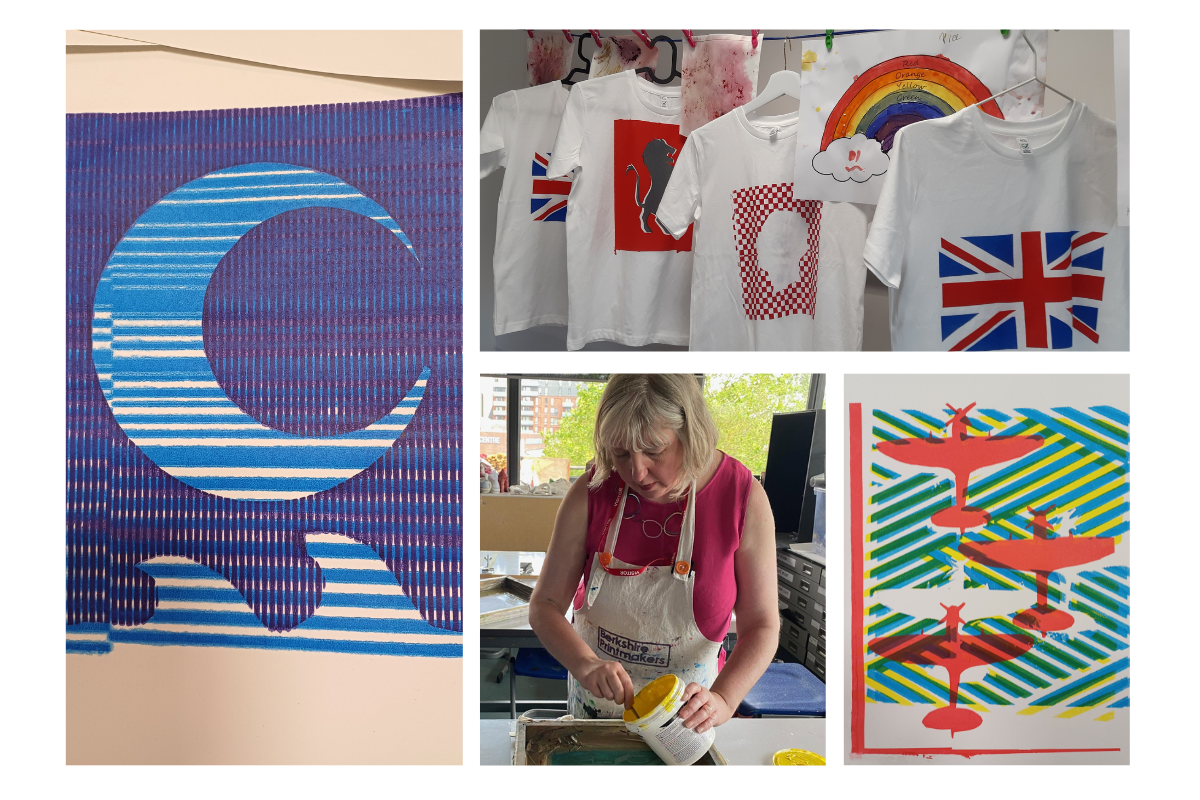 How did you first get started with printmaking?
My husband (Cipriano Martinez) and I run Berkshire Printmakers together. I studied Art Textiles GCSE at school and was introduced to screen printing then. Our school had strong history of printing and had a vacuum print table, this is where I learnt how to screen print lengths of fabric with my own repeating patterns, our teacher Miss Drown was an inspiration. In the holidays I would print t-shirt commissions from friends inspired by their favourite album covers.
Cipriano studied printmaking as part of his Fine Art degree in Venezuela. After returning from studying his masters degree at Chelsea College of Art, he went on to teach screen printing to Fine Art degree students at the Reveron Institute and to architecture students at the UCV in Caracas, Venezuela.
How did you settle on silkscreen as your main printmaking method?
Screen printing runs in our blood, both of us had printmakers in the family, my aunt studied textile design at Loughborough Polytechnic and the RCA in the 1960s, Cipriano's uncle in Venezuela ran a print business and he remembers him hand printing the posters for the bull fights.
It was this strong love of silkscreen printing between the both of us that made us want to pursue it further and deliver workshops.
What inspired you to set up Berkshire Printmakers and bring workshops into schools?
When our boys were small, we were gifted a large batch of wooden screens, and squeegees. We started running workshops in the boys' primary school and subsequently other local schools. We were then asked to set up the screen print studio at our local secondary school. In 2010 I studied for a PGCE in Art, during this year on my placements, I saw how little screen printing was being taught in schools.
Our passion is teaching — we learn as much (if not more) than the students. The mainstay of our business is working in schools. We particularly enjoy working with GCSE and A-level students. But we also have great fun with our t-shirt printing in Primary schools.
Spending half or a whole day with the students is really rewarding, whether they are five or 18. This extended period of time allows the students to explore silkscreen and apply their knowledge of the medium. Looking to the future, we would love to have a residency in a school. Having this longevity with the students would allow them to build up an in-depth knowledge that they can take into so many different areas of their lives. It would also give the whole school cohort, including parents and support staff, teachers and technicians, time to print.
We don't restrict running our workshops in formal education settings only. This year, we have taken our silkscreen workshops to art centres, libraries and festivals. We have even printed t-shirts on the grounds of Winchester Cathedral as part of the city's Hat Fair, and we run a regular Print and Sip evening in a co-working space in Newbury. Several adults have admitted that they haven't created anything since leaving school!
In the UK we should be proud of opportunities for adults to attend educational workshops. This summer we ran a five-day silkscreen workshop at Marlborough College Summer School, which is open to the general public outside of term time. Our youngest participant was 55 and the oldest was over 80. At the end of the week, the latter student was so happy with her art work she sent photos to her son in the USA. We love that age is not a restriction. I have already signed up for NSEAD's The Next Chapter: Artist Teacher in Adult Community Learning Conference in March 2024.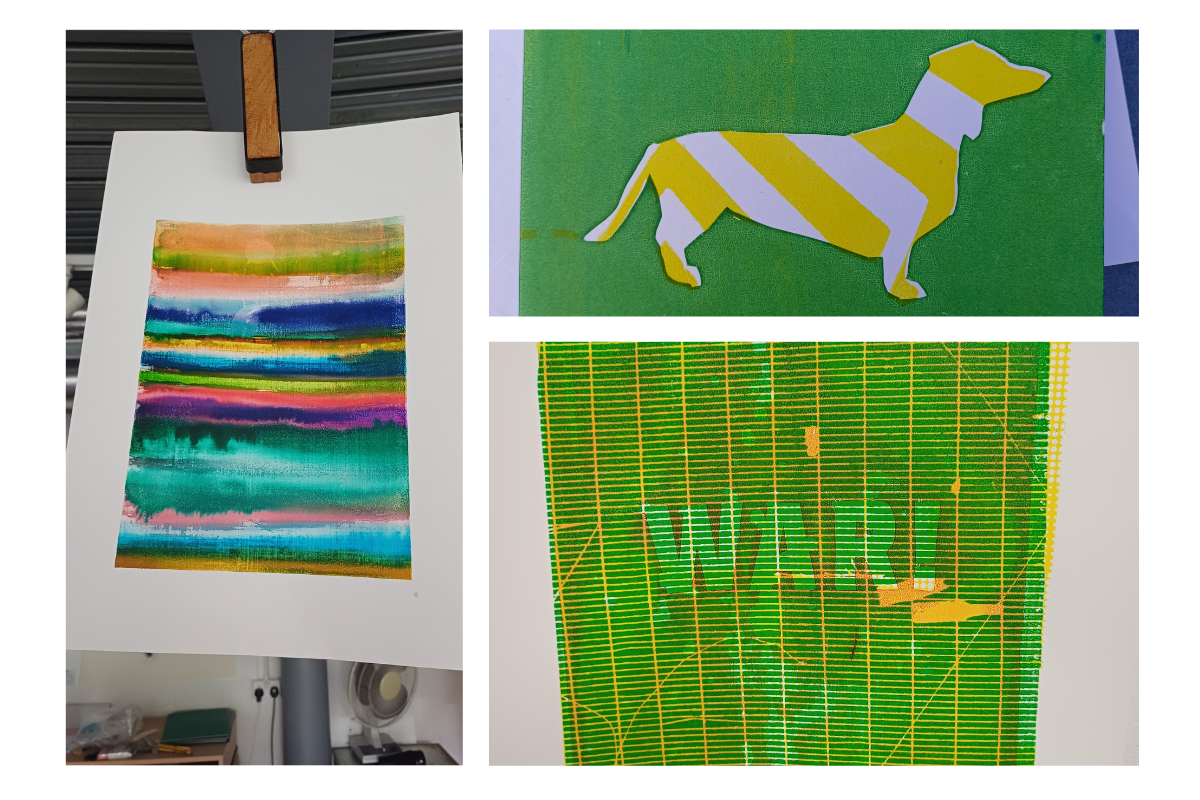 What about printmaking gets students interested and excited to make art?
Students get really excited about the physical act of creating through making. They love the immediacy of the process, and we never get bored of seeing people's faces when their print is revealed when lifting the screen.
Students can get great results very quickly and they can realise their ideas through the squeegee. Screen printing encourages experimentation and by producing multiple prints they can have variations in a matter of minutes and within a morning fill a room with prints.
In our t-shirt printing workshops the students are the fashion designers; they take part in the whole process from their initial designs to being able wear the garment at the end of the session. They make the decisions about colours, patterns, placement of the design as well as having the hands-on experience of printing.
Silkscreen printing is a very versatile process and can be used to teach photography, textiles, graphics, and fine art. Our workshops are very popular with teachers too.
How has NSEAD helped you as an artist-educator?
I find the NSEAD online a fantastic resource for staying in touch with schools, understanding the day-to-day issues which are being faced by teachers.
I have joined the NSEAD Art Education for the Environment & Climate Emergency group, and this has made us look at our own practice. The group has prompted us to offer workshops around environmental issues and let the students use second-hand clothing in the workshops. Additionally, we have started working with the local Swap Shop, dyeing, and printing clothes which would otherwise be thrown away.
Did you have an art teacher who inspired you?
I have been lucky to have a number of inspirational art teachers, starting with Miss Drown at my secondary school, followed by Dr Rachel Payne my PGCE lead at Oxford Brookes, and my friend the amazing textile teacher Sue Riley. They all have one thing in common – through their teaching they enabled you to grow.
What's next for Berkshire Printmakers?
By the second half of this term, we will have Pangbourne College's screen print studio set up and ready for the new GCSE and A level fine art and photography students. We are excited to see students start using the exposure unit to create and print their own photo screens.
In 2024, we are going back to my roots and will be running dyeing and fabric printing workshops.
Finally, we are looking into recording educational workshops for schools who are too far for us to visit. This goes hand in hand with developing CPDL workshops for teachers.
If you want to know more about Berkshire Printmakers, please get in touch and follow us on Instagram and Facebook.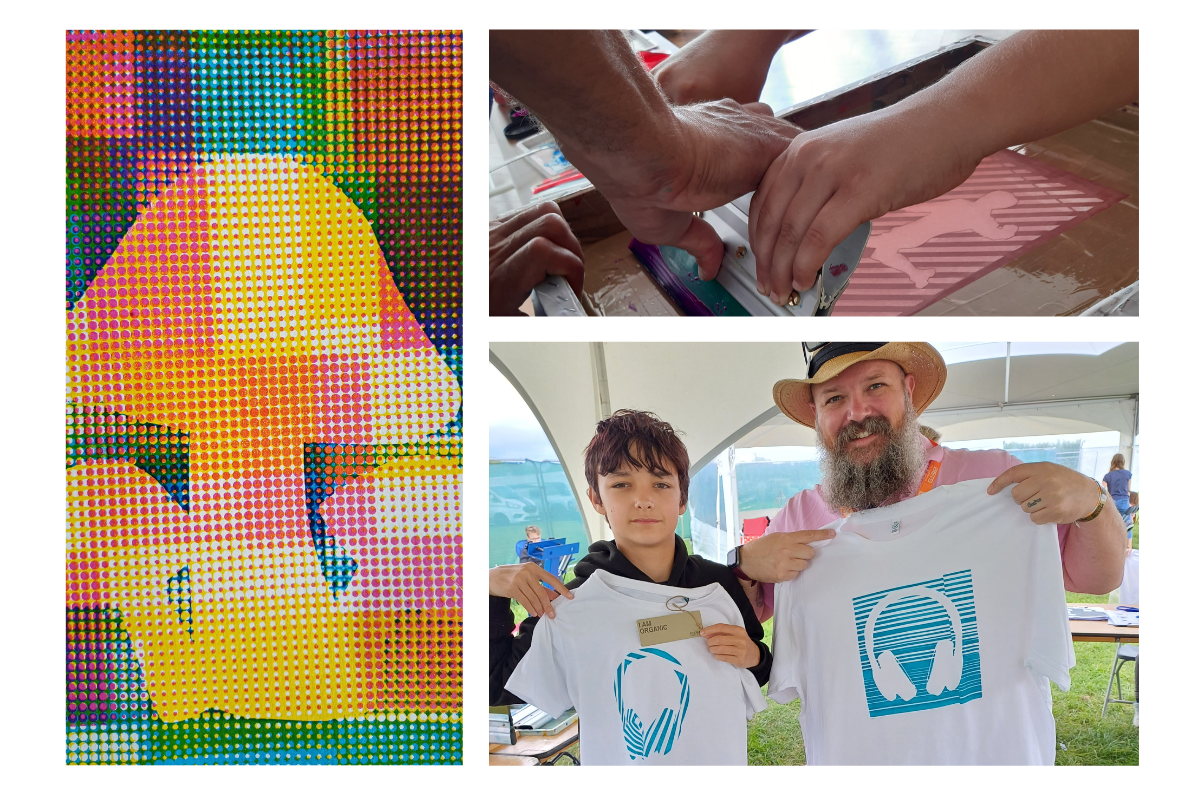 About:
Berkshire Printmakers are a family run business, offering silkscreen printing workshops.
Follow them on social media to find out more:
Image credits: (left to right)
Image 1: GCSE student's work, Woodbrook Vale School, Loughborough
Image 2: T-shirts printed by primary school student's at Mary Hare School for the Deaf, Newbury
Image 3: Sarah Martinez in action — Berkshire Printmakers
Image 4: GCSE Student's work Woodbrook Vale School, Loughborough
Image 5: Print by Sarah Martinez — Berkshire Printmakers
Image 6: Card printed by student at Thorngrove Prep School, Newbury
Image 7: Adult Participant's print from Marlborough Summer School
Image 8: Adult Participant's print from Marlborough Summer School
Image 9: Child participant
Image 10: Carfest t-shirt printing workshop — father and son participants
Do you have an idea for the NSEAD Art Educator blog? Get in touch!